BRIEF INTRODUCTIONS:
Hydro-Park 1127 is a kind of valet parking equipment, suitable for both commercial and residential parking purposes. It moves only vertically, so the users have to clear the ground level to get the higher level car down. It is hydraulic driven with chains. The equipment can be used for both sedan & small SUV.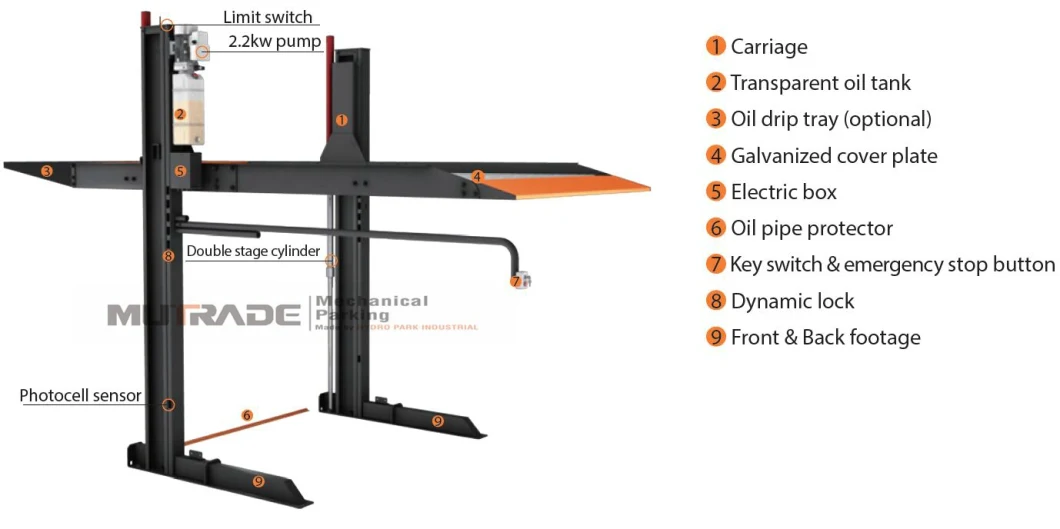 BRIEF INTRODUCTIONS:
Hydro-park 1123 is a kind of valet parking equipment. It is suitable for both commercial and residential parking purposes. It moves only vertically, so the users have to clear the ground level to get the higher level car down.
- Galvanized and corrugated platform guarantee safety and long lifetime;
- Single hydraulic lifting cylinders with chains as driven system;
- Individual hydraulic power pack and control panel;
- Symmetrical designed column;
- Can be relocated;
- Special designed control arm for operator to control the lift without getting under the platform;
- Synchronization chain assuring the lifting platform balance;
- 2300kg capacity for most types of vehicles;
- Middle post sharing feature save cost and space;
- Electric key switch for security and safety;
- A new "LOCK DOWN" button for platform sitting on locking tab to protect cylinder;
- Automatic shut-off if operator releases the key switch;
- Dynamic mechanical locks as anti-falling device hold the platform in place;
- Manual lock release available in case electricity failure;
- Platform can be stopped at different heights to fit for various vehicles and ceiling heights;
SPECIFICATIONS:
| | |
| --- | --- |
| Lifting Capacity | 2300kg/1000lbs |
| Equipment Weight | 1000kg |
| Lifting Height | 2100mm=h2 |
| Usable Platform Width | 2100mm/ 83inches |
| Power Unit | 2.2Kw hydraulic pump |
| Availble Voltage of Power Supply | Availble Voltage of Power Supply |
| Operation Voltage | 24V |
| Operation Mode | Key Switch |
| Safety Lock | Dynamic anti-falling lock |
| Lock Release | Electric Auto Release |
| Rising/Descending Speed | <45s |
| Finishing | Powder coating |
ADVANTAGES:
1. Top quality-The Hydro-park 1123 Series products are 100% cut by Laser and more than 60% welded by robot.
2. Dynamic locking device-there are a range of locking tabs on the posts to protect cars from accident damage.
3. Fast and easy installation-detailed installation manual, drawing and video attached with products will help customers have easier installation work.
4. Sharing post feature-The posts could be shared when they are installed side by side, which can save cost, land space, and container space.
5. Professional packing & delivery-We have very professional packaging and logistic people to ensure our customer will get the product damage free , simple load & unload in time.
6. Hydraulic driving mode-Thanks to the hydraulic driving mode, our lift could have a faster lifting speed. Even though there is power failure, the upper car still can be retrieved by manually operating the solenoid valve.
7. Low usage cost-When the platform moves down, it will be driven by gravity, so there is no electricity consumption for hydraulic power pack .
8. Stronger structure-Accurate inset structure is adopted to make steel plates jointed stronger so a larger loading can be supported.
Q&A
1. How many cars could be parked for each unit?
2 cars. One is on the ground and another is on the platform.
2. Could Hydro-Park 1123 be used for parking SUV?
Yes, the rated capacity of Hydro-Park 1123 is 2300kg, and maximum capacity is 2500kg, many types can be available.
3. Can Hydro-Park 1123 be used outdoor?
Hydro-Park 1123 is capable for both indoor and outdoor use. The finishing is powder coating and plate cover is galvanized, with rust-proof and rain-proof. When used indoor, you need consider the ceiling height.
4. What's the supply voltage?
Standard voltage is 220v, 50/60Hz, 1Phase. Other voltages could be customized according to clients' request.
5. Is the operation easy?
Yes. Keep holding the key switch to operate the equipment, which will stop at once if your hand releases.
6. Can this product still operate if electricity failure happens?
The platform can be descended even if there is no electricity. Firstly you need manually keep two electromagnetic lock retrieve to release the mechanical anti-falling lock, meanwhile the solenoid valve on the power unit can be opened manually to make hydraulic oil go back to oil tank, then the platform will descend by gravity.
OUR SERVICE:
1. Three years guarantee for parts and ten years for main structure
2. Calling or door to door service
3. Friendly English sofeware, user manual or detailed drawing/CD
4. To meet different user purposes, we provide customized service. Lifting capacity, lifting height, dimension of platform, color and so on is necessary. But, only quantities of order are available