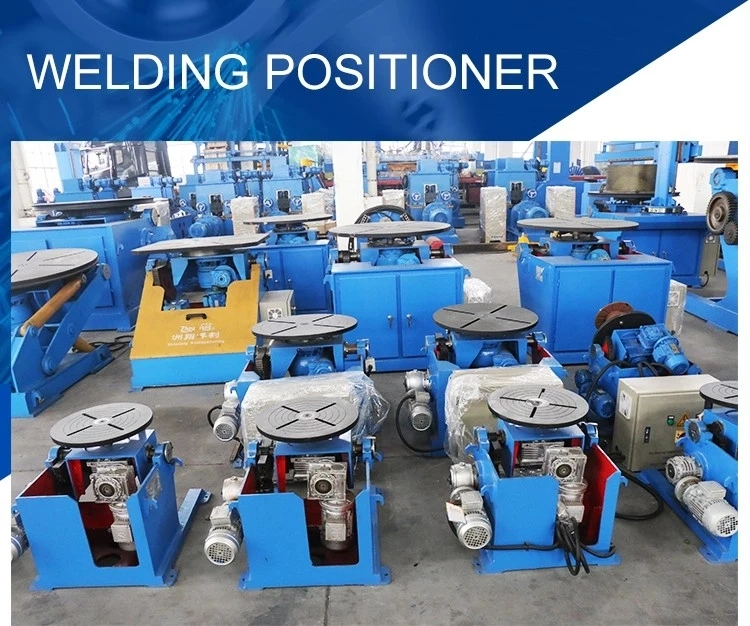 type

Rated load(kg)

Rotating speed(rpm)

Overturning angle(°)

Size of working table(mm)

Motor power

rotating

overturning

HBZ-1

100

0.12-1.2

0-90°

400

0.18

0.18

HBZ-3

300

0.2-2

0-90°

600

0.37

0.37

HBZ-6

600

0.09-0.9

0-90°

1000

0.75

0.75

HBZ-10

1000

0.05-0.5

0-120°

1200

1.1

1.5

HBZ-30

3000

0.05-0.5

0-120°

1400

1.5

1.5

HBZ-50

5000

0.05-0.5

0-120°

1500

2.2

3

HBZ-100

10000

0.017-0.17

0-120°

2000

3

5.5

HBZ-200

20000

0.015-0.15

0-120°

2300

5.5

7.5

The welding positioner includes various types and it is usually combined with automatic welding system, such as manipulator and welding machine . With gyration and upturning of working table, the welding and fitting can be located at the right position. If connected with other welding devices, it can be turned into a half-automatic or full automatic welding machine. The gyration of working table can use electromagnetic speed variation or frequency control.

Because of eccentricity and gravity, it is better to choose a bigger type for long workpieces or those with too much gravity center deviation.The shape and weight of workpieces, process and working method are provided, our company shall supply a prompt scheme your reference.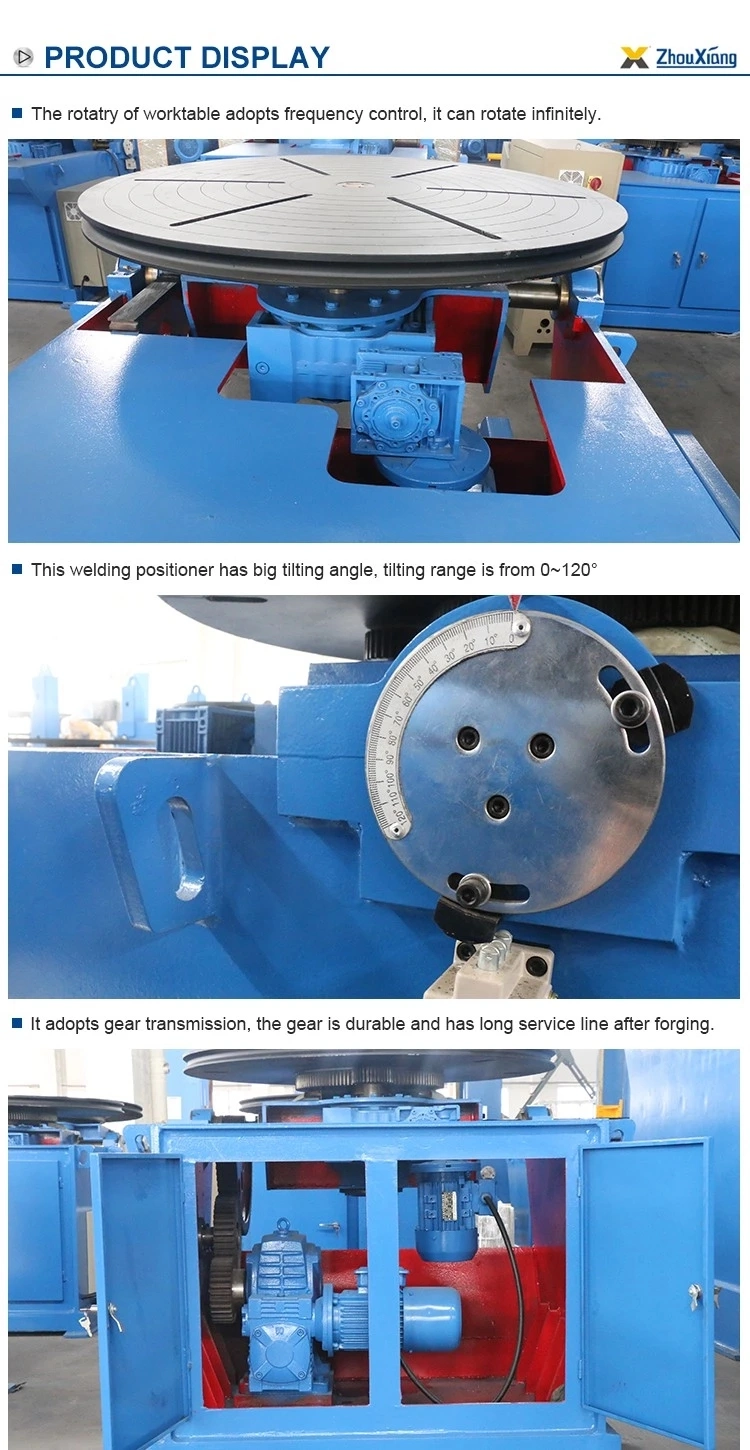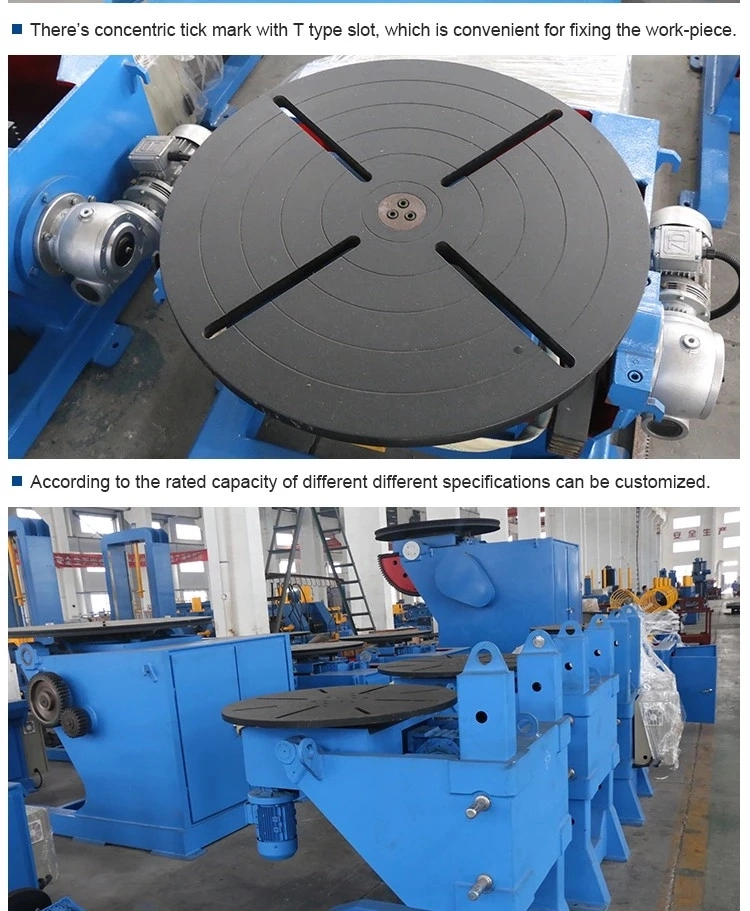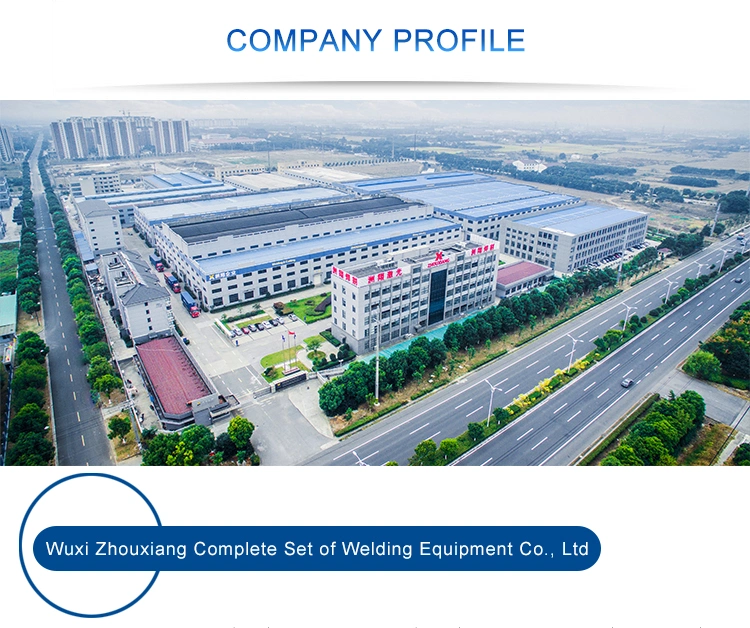 Wuxi Zhouxiang Complete Set of Welding Equipment Co.,Ltd,founded in 1991,located in Wuxi city, about 100km from Shanghai.We have fixed assets of 150 million yuan,cover an area of 160,000 m2, staff 500 people,including more than 100 engineering and technical personnel.Our company was certified to ISO9001 Quality System Certification firstly in the industry and many products were certified to China Compulsory Certification(CCC).Our products sell well at home and abroad,including Europe,America,Southeast Asia,Middle East and other countries.
Zhouxiang products mainly include CNC flame/plasma cutting machine,H beam light duty production line,H beam heavy duty production line,Horizontal H beam production line,H beam assembly welding straightening integral machine,Corrugated web H beam production line,Box beam production line, Welding manipulator, Rotator, Positioner,Edge milling machine,End face milling machine,Shot blasting machine series,kinds of plate rolling machine,Profile bending machine and welders,fiber laser cutting machine,CO2 laser cutting machine,laser tube cutting machine,Fiber laser cutting robot and Fiber laser welding robot etc.
We have high sincerity to do business with customers all over the world and establish good friendships.