Coresun Drive high quality slewing drive SC7 with 12V, 24VDC motor for 12-20 square meter with 200-500kg load single axis PV, CPV solar energy system.
1. Our manufacturing has been found the efficient Quality Management Systems(QMS) of ISO 9001:2015 and GB/T19001-2008.

2. We devote ourselves to the R &D of customized slewing bearing with high precision,special purpose and requirements.

3. With abundant raw materials and high production efficiency, the company can supply products to customers as quickly as possible and shorten the time for customers to wait for products.

4. Our internal quality control includes first inspection, mutual inspection, in-process quality control and sampling inspection to ensure product quality. The company has complete testing equipment and advanced testing method.

5. Strong after-sales service team, timely solve customer problems, to provide customers with a variety of services.
| | | | |
| --- | --- | --- | --- |
| Model | SC7 | Place of Origin | Changzhou,China |
| Brand | Coresun Drive | Available Load Weight | 200-500kg |
| IP Class | IP65 | Output Torque | 994N.m |
| Tilting Moment Torque | 13500N.m | Holding Torque | 10400N.m |
| Mounting Bolts | M12 | Inner Dia.m | 120.6mm |
| Gear Ratio | 71:1 | Outer Dia.m | 203.2mm |

Slewing Drive is also called slewing gear, worm gear, worm drive, rotary drive, slew drive, worm gear reducer and rotary drive unit. At present the majority of such devices are caller Slewing Drive.
Coresun Slewing Drive movement can reduce power consumption, since the security role. In addition to the field of use in the daily solar power systems are usually used for Special vehicle, heavy-duty flat-panel truck, container cranes, truck mounted crane, automobile crane and aerial vehicles, cranes, gantry cranes, small wind power stations, space communications, satellite receiver, etc. . The Slewing Drive in the solar photovoltaic industry, the general configuration DC planetary reduction motor or AC geared motors; main configuration of the hydraulic motor as a power-driven construction machinery
Coresun Slewing Drive principle of the large transmission ratio of the deceleration device to transmit motion and power between the two axes staggered in space. The Slewing Drive transmission is usually the case of the main components of the worm and wheel bearings, shell, and the power source
As the core component of turntable bearings, can withstand the axial load, radial load and overturning moment.

Slewing drive bearing rotating platform turntable Drive are powered with hourglass worm technology to give the maximum survivability load holding capability as well as increased efficiency and accuracy. The hourglass worm engages multiple teeth on the pitch line of the ring gear from the hourglass thread, unlike standard worms which touch only 1 tooth. This increased tooth engagement of 5 to 11 teeth gives enormous strength and power to the gearbox.

The most basic slewing drive has a radial gear driven by the worm. The teeth of the gear meet with the grooves in the worm and, as the worm turns, the gear also turns. Common features for different slewing drives can include an hourglass-shaped worm, which is often considered more efficient because multiple teeth on the gear can be engaged at once. Other features can include a protective enclosure meant to keep the mechanisms clean.

Slewing drive can be divided into two different structures as per different applications.
Light load slewing drive
Heavy load slewing drive
The dimensions of slewing drives include 3 inch, 7 inch, 9 inch, 12 inch, 14 inch, 17 inch, 21 inch and 25 inch.

Slewing drive is a special bearing. And a slewing drive usually consist of slewing bearing, worm shaft, housing, bearing, motor and so on. Motor drive the worm shaft, the outer ring of slewing bearing will rotate, the outer ring output the torque through flange while the inner ring of slewing bearing is fixed in housing.
Coresun Slewing Drive and rotary products, compared with the ease of installation, ease of maintenance, Installation space savings advantages to a greater extent.

Slewing drives are widely used in aerospace area, solar power systems, wind turbines, satellite broadcasting system, and engineering machinery like truck cranes, and man lifts, etc. Recently years, it has been prosperously used in photovoltaic power generation systems, special vehicle, heavy-duty flat-panel truck, container cranes, truck mounted crane, automobile crane and aerial vehicles, cranes, gantry cranes, small wind power stations, space communications, satellite receiver, etc.
SC7 slewing drive motor production photo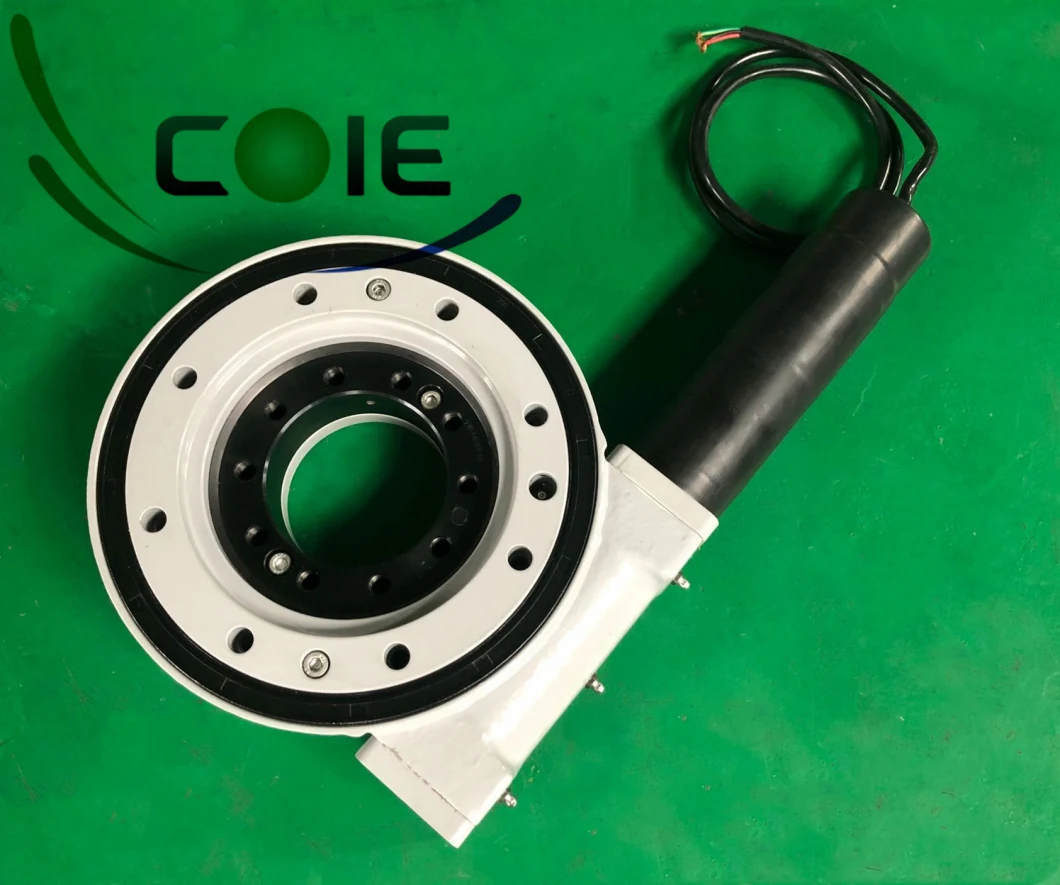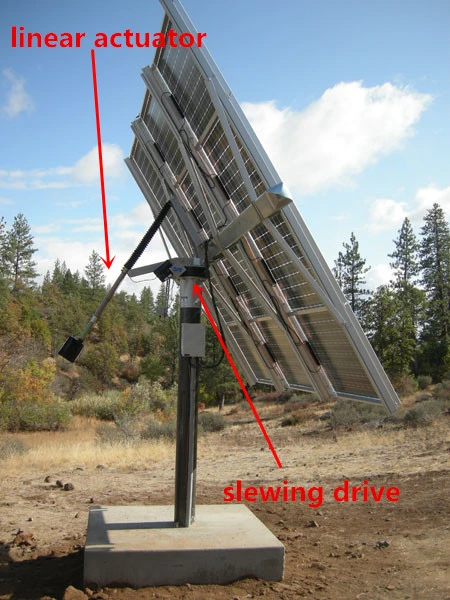 7 inch slewing gear motor worm drive is certificated by CE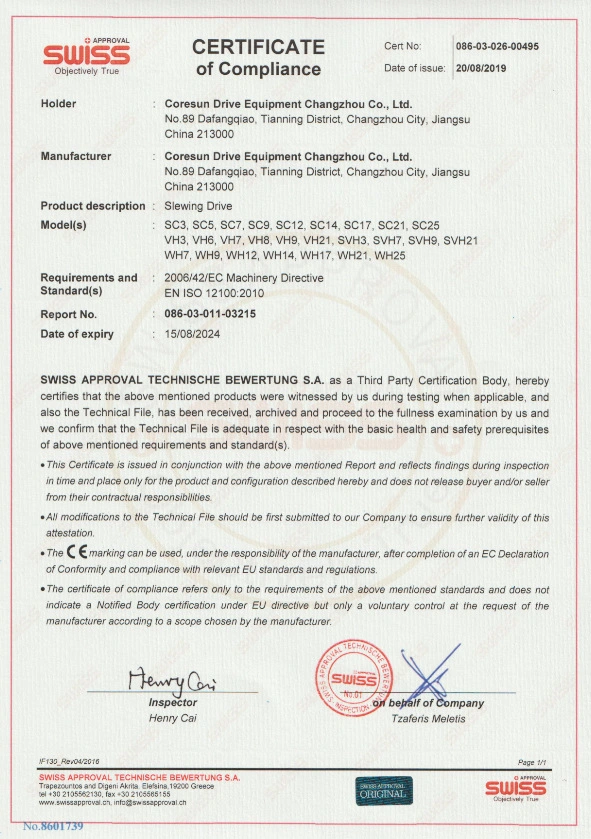 CONTACT US
It is sincerely looking forward to cooperating with you for and providing you the best quality product & service with all of our heart!